Wine Appreciation Weekend : The Language of Wine - Saturday, 3/12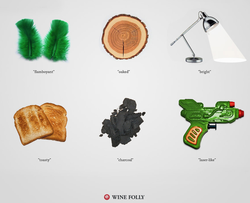 On Saturday, March 12th, and Sunday, March 13th, from 11 am to 5 pm, we are offering our Current Members, and Members-To-Be, the opportunity to join us for an in-depth tasting experience that will enable you to discover and develop your own descriptions for what you are experiencing when you taste wine. We will be featuring La Rochelle Wines along with wines from other wineries we love, including our GEMS Winery Partners, such as Medlock Ames, Robert Craig Winery, and VGS Chateau Potelle, as well as Voces Cellars, our Associate Winemaker Fernando Canderlario's winery based in Napa Valley.
LEARN:
First, you will explore the three basic tastes in wine: Sweet - Sour (acid) - Bitter (tannin). Once you have tasted and mastered the distinctions between these three components, we will then play with how the these three components interact and clarify the ever elusive concept of balance.
SMELL:
Numerous examples of aromas that are reflected in these different wines will be available as well. By becoming familiar with aromas originating from the grape varieties themselves, as well as those created during the winemaking process, you will be able to develop your own language to describe wine characteristics and learn how to share a common language with others. Every grape variety is unique and every person will have their own individual experience based on their perceptions. The subjectivity of wine tasting is what makes wine appreciation such a personal journey, and yet one that is even more enjoyable when shared with others.
TASTE:
Next, you will delve into the origins of flavors. In addition to our wines, we will be sharing excellent examples of other varieties from our GEMS Winery Partners and Voces Cellars, including Sauvingnon Blanc, Malbec, Merlot, Petit Sirah, Syrah, Cabernet Sauvignon, and Zinfandel.
This is your opportunity to find your own descriptions for what you experience. There are more than a thousand flavors that an be found in different wines. The "average" taster has the ability to recall just over a dozen flavors from memory. After this experience, your wine vocabulary will be greatly enhanced and your experience of tasting wine may never be the same again.
Product Reviews