Gratitude Valdiguiè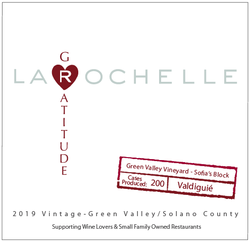 For those of you that know me, I am incapable of telling a story...quickly. Please bear with me and I will tell you why I love this wine.
In my early days in the business at J. Lohr Winery, we made a Valdiguié using carbonic maceration as the fermentation technique. Carbonic maceration is done by filling a tank with whole clusters and just crushing a small amount of grapes to add some must/juice to the top of the tank. We added yeast and the juice would start to ferment and give off CO2 and protect the grapes below. As the yeast population grows, the whole grapes start to ferment from the inside out. As sugar is converted to alcohol and carbon dioxide the grapes would start to explode, hence the name carbonic maceration.
Now the best part of the story...
Once fermentations slowed and most of the sugar was converted to alcohol, the tank was full of wine, stems and some/many whole grapes. We would drain the wine out of a bottom valve into another tank. We then needed to go inside the tank and remove move the stems and clusters to the press.
Possibly the best thing I have ever tasted were the whole grapes that hadn't exploded. They fermented to almost dryness so there was a hint of sweetness. Imaging a slightly sweet grape, with bubbles and alcohol that explodes in your mouth. I have said since those days, back in the early 80's, If a winery could sell those sparkling, fruity, little nuggets of wine; it would be the most popular wine in the world.
When this wine finished fermenting and I tasted some of those magic sparkling slightly sweet Valdiguié grapes, it was like reconnecting with a long lost friend.
This wine is pure Joy. I am so delighted to be able to share it with you.
Wine Specs
Appellation
Green Valley - Solano County
Product Reviews