2021 Pinot Meunier - Sonoma Mountain - Sofia's Block
Sonoma Mountain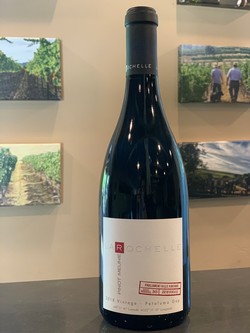 Only about 35 acres remain in California of this unique grape variety. Pinot Meunier was originally brought to California by some of the French Champagne houses, so they would have the three traditional grapes from Champagne available to use in California (Chardonnay, Pinot Noir & Pinot Meunier). They quickly discovered that the warmer climate, versus Champagne, gave the wines an intense fruity flavor. In cooler climates, like Champagne, Pinot Meunier - when picked early and pressed - makes the perfect neutral-flavored base for sparkling wine. Delicate flavor is the key for a cuvée for Champagne. The base wine must be delicate enough to take on the flavor of the yeast during the secondary fermentation in the bottle. The warmer climate in California produced wines with too much flavor.
Today there is very little Pinot Meunier left in California. There are a handful of us who like to make a red, still wine from the few acres available.
It's delicious, and so worth it to keep those last few acres alive!
Wine Specs
Appellation
Sonoma Mountain