Christmas 3 Pack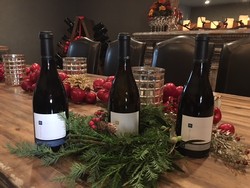 2015 Un-Oaked Chardonnay Black Knight Vineyard - Bennett Valley
Bright crisp refreshing Chardonnay. This quaffer has earned the nickname... "The Porch Pounder" because of its easy drinkability and delightful character. Light and crisp with layer upon layer of complex fruit flavors.
2014 Pinot Noir El Coro Vineyard - Petaluma Gap
This Petaluma Gap beauty, has a dark cherry character with hints of earth and spice.
2012 Reserve Pinot Noir Donum Estate - Carneros
The wines from Donum Estate are in the elite class of California Pinot Noir. We are blessed to get a couple tons of this rare fruit each vintage. It is a rare site that can produce a complete wine with incredible complexity, the ability to age, and a balanced enjoyable wine throughout its long life.