2019 Holiday Care Package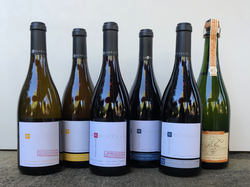 To express our appreciation for your support, we've put together a bundle of 6-bottles to get you through until the new year. Your continued support is what makes our winery possible. We are in the imitable position to make 17 - Pinot Noirs, 5 Chardonnays and 5 Sparkling Wines, which is only possible with your patronage. It is our passion to create an amazing Pinot Noir, Chardonnay and Sparkling wine experience for you.
To express our gratitude, we are offering this 6-pack of wines at an amazingly affordable price.
We are offering a "Get-to-know-us" price of $299 for non-members
Our Members - Our Lifeblood - get his amazing selection of 6-bottles for only $199.
Remember to Login to get your Special Member Price!
This is the best way I know to express my gratitude to you Members. Your support over the past year has been tremendously heart warming. I will be forever grateful.
Cheers,
Chuck