2013 Pinot Noir - Lester Family Vineyard at Deer Park Ranch
Santa Cruz Mountains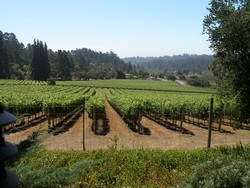 We are temporarily our of stock at this location - If additional wine is available, you will be notified when your order can be processed.
Pinot Noir loves sun but the complexity is destroyed by heat. Welcome to Lester Family Vineyard at Deer Park Ranch. Located just miles from the Monterey bay, the fog lays below the vineyard for most of the day while the grapes bask in sunshine. When Pinot Noir is allowed to develop slowly in this special environment, the experience the wine offers is sublime.
We strive for complexity - balance & longevity with our wines. This amazing Pinot Noir has it all. Just try and age a bottle, or two, for 10 years or more and you will see why Pinot Noir is the most coveted wine for collectors.
Wine Specs
Appellation
Santa Cruz Mountains
Vineyard Designation
Lester Family Vineyard