2013 Po·lyph·o·ny
An Extraordinary Expression of California Pinot Noir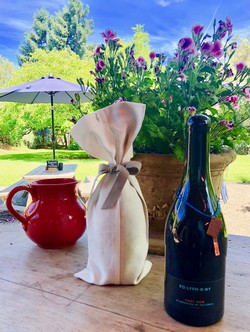 We are now accepting requests for allocations
of the release of
2013 - Po·lyph·o·ny - Pinot Noir
We believe that the love for Pinot Noir, and it's true value, is defined by the wine's complexity and ability to develop a one-of-a-kind experience as the wine ages. There is no other wine experience that rivals the moment when you get the chance to taste an aged Pinot Noir that was crafted to develop and improve over decades. It is this experience that we strive to create with Po·lyph·o·ny.
We started by crafting unique, small-lots from single vineyards, each with its own special character or voice. These wines are truly distinctive and expressive of the clones, site, vintage, grower's experience and our ability as vintners to capture the flavor of place.
Each component is individually nurtured to contribute a unique flavor, character or texture that will combine with other complementary small-lots to create Po·lyph·o·ny. This is the ultimate expression of what is possible with California Pinot Noir, when made from grapes from the greatest Pinot Noir growers in California.
Po·lyph·o·ny is not the distinct expression of a single site, but the coming together of the best that each region and prominent vineyard has to offer.
All of the individual voices are present in the experience. The fusion of the individual personalities delivers a beautiful, complexity and unique Pinot Noir Experience with every taste.
We have crafted Po·lyph·o·ny to develop over time. The multitudes of aromas, flavors and textures will evolve over the years and continue to provide a one-of-a-kind experience for decades to come.
Experience Po·lyph·o·ny, a truly extraordinary sense of
California Pinot Noir.
Members have priority access to allocations prior to release.
Non-Members may request an allocation after July 1, 2019.
$250 / Bottle Non-Member - $200 / Bottle Member Price
Wine Specs
Vineyard Designation
CAlifornia
Product Reviews
Peter Henderson
(Nov 28, 2019 at 10:34 AM)
Polyphony is hands down the best Pinot Noir I have ever experienced.
Bob Belmont
(Apr 2, 2021 at 7:49 PM)
Wow, incredible Pinot Noir. I am sad the the experience of this wine is over but glad to say it was amazing.