Po·lyph·o·ny Dinner 2019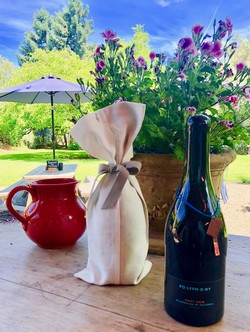 We are proud to announce the release of our latest Vintage of Po·lyph·o·ny. There is no better way to understand and experience this exceptional wine, than to enjoy an evening of pairing the components of the wine with an amazing five-course meal and educational tasting.
Here's the deal. $250 per person - gets you a seat at the table, a five course amazing meal, paired with 12 different wines (Including 2013 Po·lyph·o·ny).
And now the best part... After your meal you will leave with a bottle of 2013 Po·lyph·o·ny!
You buy a bottle of Po·lyph·o·ny and the dinner is on us!
Member price $200 per person.
---
For this special occasion, commemorating the launch of our 2013 Vintage of Po·lyph·o·ny, Chuck will guide you through the evolution of Po·lyph·o·ny Pinot Noir.
---
The evening will begin with a reception featuring our Small-Lot Single Vineyard Sparkling Wine - 2012 La Vie - Blanc de Noir from McIntyre Vineyard - Santa Lucia Highlands
---
No meal at La Rochelle would be complete without at least one Chardonnay. We will begin the dining experience with our 2015 Recherché Reserve Chardonnay from the Ferrington Vineyard in Anderson Valley.
l'appariement
Fresh Corn, Green Garlic & Sheep's Milk Ricotta Sformato, Yellow Tomato Confit
---
Following the Chardonnay course, we will dive into the three different flights of Pinot Noir.
First Flight
– You will taste three wines that demonstrate how different strains of yeast contribute to complexity by developing unique flavors and textures.
l'appariement
Porchetta Grilled Niman Ranch Pork Tenderloin - Fresh Cherry Sugo & Red Rice Cake
---
Second Flight
– You will compare three wines, crafted from different Pinot Noir Clones, from the famed Bacigalupi Vineyard in Russian River. Each clone contributes individual characteristics . When combined, the complementary flavors and textures create beautiful complexity, balance and structure of the final blend.
l'appariement
House Made Peccorino Herb Gnocchi - Wild Muchroom Mascarpone Broth with Pancetta & Fresh Peas
---
Third Flight
– We offer three of our Recherché Reserve Pinot Noirs from three distinct Growing Regions. It clarifies how Pinot Noir expresses the site, climate and grower interactions to deliver the "flavor of a place"
l'appariement
Neiman Ranch Shortribs, Goat Cheese Parmesan Polenta, Red Chard, Roasted Red Onions & Hobbs Bacon
---
Finale – We will complete the evening with the introduction of our 2013 Vintage of Po·lyph·o·ny.
l'appariement
Cheese Course - Cypress Grove Goat, Époisses, St George Cheeses. Wine Country Chocolate, Nuts & Figs
Spaces for this unique experience are extremely limited.
Reserve your place at the table:
Date: Saturday August 31st.
Location – La Rochelle Winery
Time: Arrive by 6PM – Service starts promptly at 6:30 – Estimated time 3 hours
Cost:
Members - $200 per person
Non-Members $250 per person
IncludedEach guest will receive a bottle of 2013 Po·lyph·o·ny or wines of their choice ($250 value)