Welcome to the Members Lounge
Spring is here. Below is a look at your March releases and a glimpse into the future.
Pinot Noir Experience - March 2018 Releases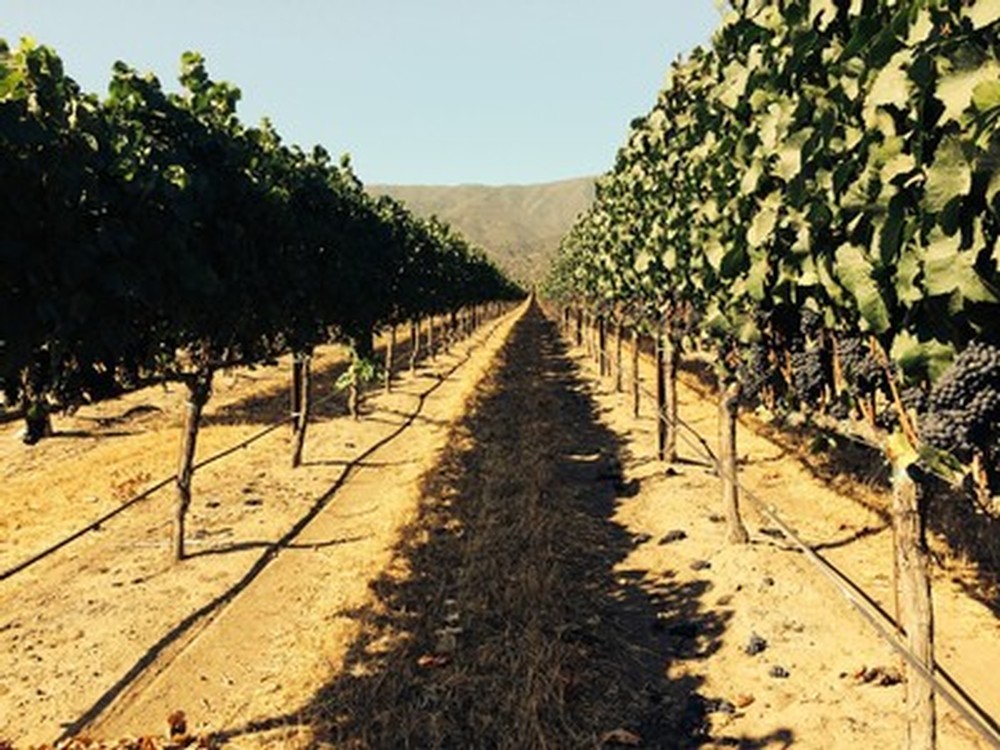 2014 Tondre Grapefield Pinot Noir - Santa Lucia Highlands - 175 cases produced
This rare combination of Dijon Clones, 115 & 943, create the perfect balance of bright cranberry and earthiness with deep boysenberry and spice. This is the perennial favorite wine in our portfolio because its round rich flavors make it very approachable early. Don't be fooled though. Good things come to those who wait. The subtle truffle and spicy flavors develop over time.
---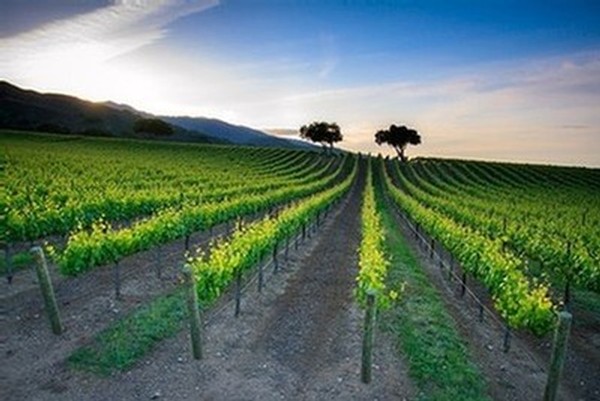 2015 Boekenoogen Vineyard Pinot Noir - Santa Lucia Highlands - 150 cases produced
This particular wine shows why the Santa Lucia Highlands has become one of the preeminent regions for growing Pinot Noir in California. When the Sleepy Hollow vineyard became unavailable, we asked the question, If we could source grapes from any other vineyard in SLH which one would be ideal. Bookenoogen was the first name that came to mind. Then, the unexpected happened. We got a call from them. They had tasted one of our wines and asked if we would be interested in making a wine from their vineyard. Seriously... we may be the luckiest folks on earth. You are in for a treat with this first release from this unique hillside location.
---
For our Pinot Noir Experience Members, here is a glance at what other wines you will receive to complete your Pinot Noir Experience in September.
2015 Mariah Vineyard Pinot Noir - Mendocino Ridge - 200 cases produced
Our newest Vineyard and AVA. High above the Mendocino Coast perches the Mariah Vineyard. The Mendocino Ridge appellation is the only non-contiguous AVA in California. The region is a series of mountain peaks that stretch from Anderson Valley to the Mendocino Coast. Each vineyard must be over 1200 feet in elevation. This is why the Mendocino Ridge AVA has been nicknamed "Islands in the Sky®," because the vineyards sitting at 1200 feet or higher are often perched above thick fog moving inland from the Pacific Ocean blanketing the coast and the valleys between the ridge tops, making the tips of the mountains look like islands protruding from a sea of fog. The daytime temperatures average 10 degrees less than the Anderson Valley. Estimates of planted acres range from 233 to 410, which makes the wines from this unique appellation extremely rare. The planted acres are scattered among 17 remote vineyards. Mariah had us hooked with cool & sunny, and then we met Dan Dooling, the owner of this beautiful vineyard. The combination of his passion and skill with a perfect site can only lead to wines with great soul. This wine is a great addition to our Pinot Noir Experience and a wonderful discovery.
2015 Bacigalupi Vineyard Pinot Noir - Russian River Valley - 200 cases produced
Beautiful, rich Pinot Noir from one of the first families of the Russian River Valley. This is what happens when an experienced grower aligns with an experienced winemaking team. It's only our fourth vintage working with this iconic vineyard, but, we are starting to dial in the flavors and textures that this gem of the Russian River Valley has to offer. This is probably our warmest vineyard location. The rich ripeness offers soft and supple textures and deep rich flavors. Though this wine will age for decades, you will struggle to give it the chance to develop. It just begs you to drink it now
---
La Rochelle Experience
La Rochelle Experience - March 2018 Releases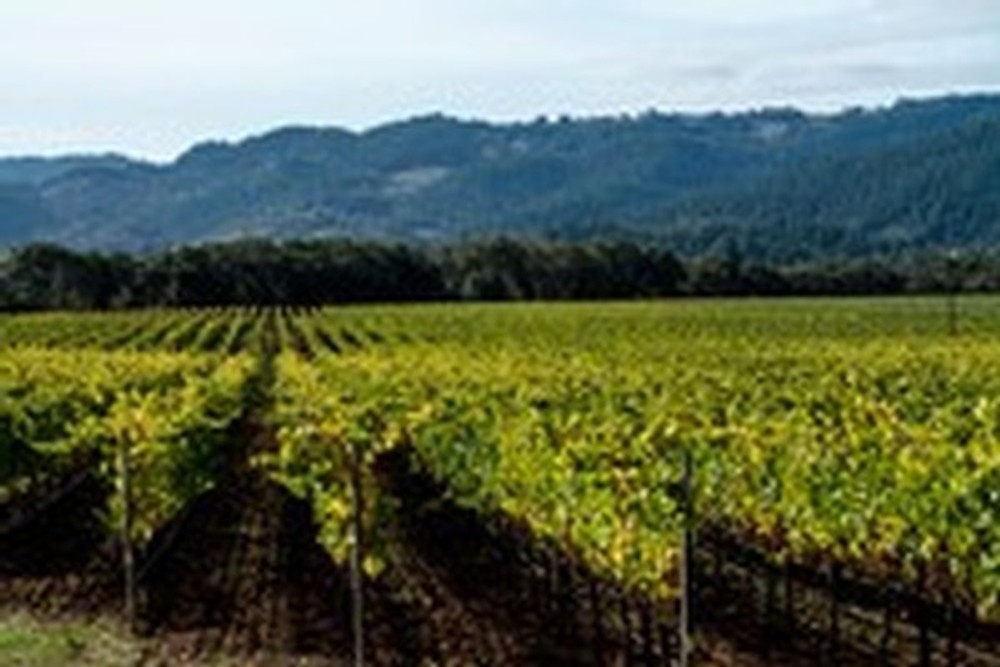 2014 Recherché Reserve Chardonnay Ferrington Vineyard - Anderson Valley - 75 cases produced
The toasty brioche nose is complemented with layers of rich pineapple-mango, orange and lime. This is a Chardonnay to enjoy now, but great rewards are in store for those who have the patience to lay this beauty down for a decade or more. There is only one way to the pot at the end of the rainbow... for this wine time and patience will get you there.
​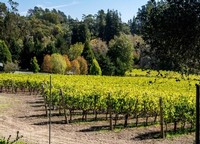 2014 Recherché Reserve Pinot Noir - Lester Family Vineyard - Santa Cruz Mountains - 138 cases produced
The Lester Family Vineyard at Deer Park Ranch has been the rising star within our portfolio of Pinot Noirs for years. In 2014 we decided to elevate this magnificent site to our Recherché Reserve status. The best sites for Pinot Noir tend to be the coolest locations where the grapes are just on the fringe of achieving ripeness every year. The sunny but cool temperatures at Deer Park Ranch allow all of the flavors possible in Pinot Noir to develop. The Lester Family's unique and complementary selections of Pinot Noir, develop unsurpassed complexity. The natural crisp acidity electrifies the flavors and sets the stage for decades of further development. This is a wine you will want to experience in 15-20 years.
​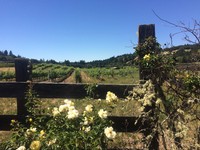 2010 Londer Vineyard Pinot Noir - Anderson Valley - 156 cases produced
We have pulled a gem from our cellar for you. It is just now starting to show what happens with Pinot Noir when it's grown in a great site. The more robust flavors that dominated the wine, just a few years back, have subsided. It's like the tide going out and exposing life that is just below the surface. The more subtle flavors are now starting to show and complement the still lively fruit flavors. This is what it's all about folks. Pinot Noir shows a multitude of flavors and textures that can't be matched. This wine still has decades to go in its development. Try one now and open another bottle in 5-7 more years.
---
For our La Rochelle Experience Members, Here's is what you will be receiving in September to complete your La Rochelle Experience.
2013 La Vie - Sparkling Blanc de Noir - McIntyre Vineyard - Santa Lucia Highlands - 89 cases produced
2012 Recherché Reserve Pinot Noir - Rosella's Vineyard - Santa Lucia Highlands - 165 cases produced
2013 Recherché Reserve Pinot Noir - Donum Estate - Carneros - 130 cases produced
---
How to Navigate the Website to update your Membership Information.
Here is a quick "How To" to make it easy for you to update your Membership Information, including updating your Credit Card / Billing Information - Changing your shipping address - Reviewing your Orders and even Changing Your Membership.
First:
1. Click in the upper right of the screen where it says login and Enter Your Username and Password. If you've forgotten your Username or Password, just click of "Forgot my password" and a temporary password will be sent to you.: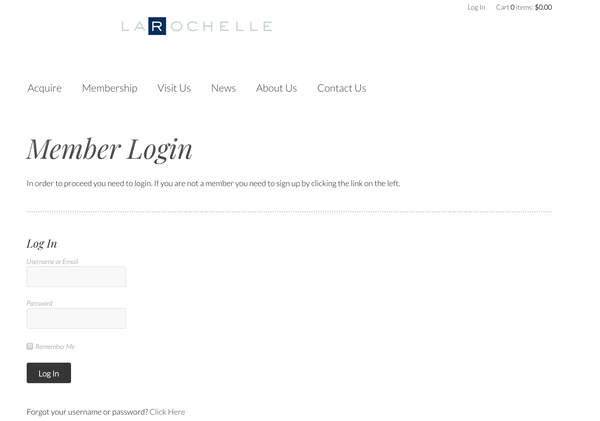 2. Select from the pull down menu the information you would like to update.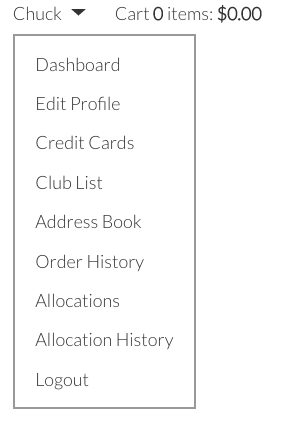 It's that easy! You information will be saved in your profile and your next releases will be sent out on time and to the correct address.
If the Website is not your thing... You can always give us a call and we would be happy to make changes to your profile. (707) 302-8000 ex2 will reach Lori, your Membership hero.